MONDAY FINISH
May 7 2018
Golf three days a week at Rideau View with his long-time friend and associate coach Bert O'Brien and their usual group has been a big part of Brian Kilrea's life.
He's going to try and continue his Monday-Wednesday-Friday games while he undergoes a month of radiation treatments, which started Monday, after he was diagnosed with prostate cancer recently.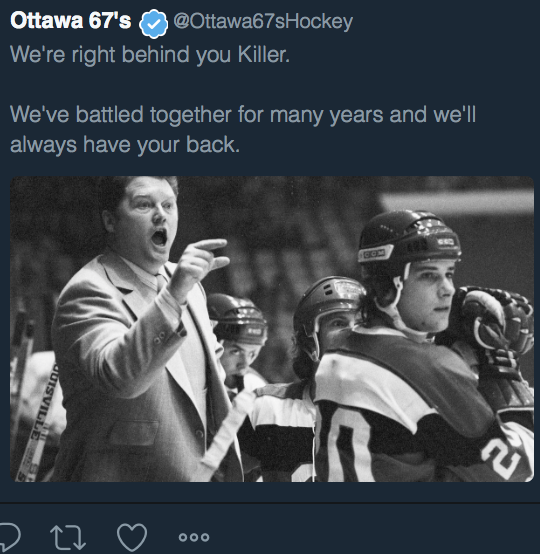 I spoke to the 83-year-old member of the Hockey Hall of Fame for a piece I wrote for The Athletic Ottawa (shameless plug here: it's a subscription site, but they unlocked the piece I wrote on Kilrea here: https://theathletic.com/343103/2018/05/04/canadian-coaching-legend-brian-kilrea-upbeat-for-cancer-fight/).
What came through from that conversation is Kilrea is taking on this latest challenge like he has all others, with his head up, his wicked sense of humour and his love for the game of golf at Rideau View.
Kilrea has told O'Brien to hold his spot in their regular golf game for now and he hopes to get out to the course after his daily treatment to catch the back nine.
Kilrea said the prognosis is good. "They didn't seem to be too concerned, so I'm not,'" he said. "'They said, 'we'll look after this. We'll get it.' and I said, 'oh, good, go get it.'"
As I said in my piece for The Athletic, Kilrea is hockey royalty in Canada and if the position of Canada's coach emeritus existed, he would occupy the office.
He coached the Ottawa 67's of the OHL for 32 seasons and has the most wins in CHL coaching history: 1,194, the last when he returned for one game to celebrate his 80th birthday in 2014. He was named the OHL's coach of the year five times.
Prostate cancer is the most common cancer in men. One in seven Canadian men will be diagnosed with prostate cancer, according to www.prostatecancer.ca. Prostate cancer can be slow growing and some men can live many years without having it detected. The chance of getting prostate cancer rises quickly after a man reaches 50 and almost two out of three prostate cancers are found in men over the age of 65.
According to www.prostatecancer.ca: "If detected and treated in its earliest stages (when the cancer cells are only in the prostate), your chances of survival are greatly increased. Early detection is key."
FROM THE FRINGE ... The Players Championship goes this week, it's last time in May before shifting back to its traditional March spot with the anticipated schedule shakeup for next season. The top 50 in the world golf ranking are in the field. Tiger Woods, too, who will play the first two rounds with Phil Mickelson (the first time they've played together in The Players since 2001). Rickie Fowler will round out their group. Canadians Adam Hadwin, Mackenzie Hughes and Nick Taylor are also in the field based on finishing in the top 125 on last year's FedEx Cup points list. The island green 17th is usually the star (a bit over-rated in my opinion) and here are the PGA Tour's Top 10 shots from over the years. Fred Couples is in it three times. My other takeaways: a pre-pony tail Mechanic, guys used to wear really baggy pants and Gary Koch's, "Johnny, that's better than most," remains one of golf's great calls. https://www.youtube.com/watch?v=5CLkgXAK2XI ... Bruce Mitchell became the first Canadian to be captain of the Royal and Ancient Golf Club of St. Andrews last fall and this "driving in" tradition is pretty cool. The thing I like is Mitchell put a pretty good Canadian spin on the tradition when it came to awarding the caddie who caught up to his drive. Tradition says the caddie grabbing the ball gets a quarter ounce of gold. You can watch it here: https://www.youtube.com/watch?v=ja4S8t1yM9A
SAY WHAT? .... It was a pretty good week for quotes from some prominent PGA Tour players. First off, Fowler broke down the public perception of Masters champion Patrick Reed. Fowler said the negativity around Reed is "unfortunate," but I don't know if he did Reed any favours by comparing him to the current First Golfer. "Not to compare it but, hey, Donald Trump's our President,'' Fowler said. "He got elected. Accept it. That's our President. Patrick Reed, whether you like him or not, he won the Masters. He went out and won it. There's no politics involved. He played better than everyone else that week. He beat everyone.'' ... Rory McIlroy, who had a disappointing Masters as he sought to win the career Grand Slam, ruffled a few feathers when he threw some shade at the U.S. Open and The Open Championship. "The Masters has now become the biggest golf tournament in the world and I'm comfortable saying that," McIlroy said. "I don't care about the U.S. Open or the Open Championship. It's the biggest tournament in the world, the most amount of eyeballs, the most amount of hype. The most amount of everything is at Augusta. For me, it's the most special tournament that we play and it's the one everyone wants to win, but even if I was going for my first major, it's tough to win." McIlroy backtracked a little bit. "I care deeply about those other ones. I'm a proud winner of both of the tournaments. I wasn't trying to be disrespectful at all. I was just trying to say that from where those tournaments were in stature in this game to where they are now the Masters is, I feel like the Masters has replaced those two tournaments. And that's not to take anything away from the PGA as well. I just think i stands alone in terms of the four majors and that's all I was trying to say."
THE 19TH HOLE: Finally, I have hit many things made of concrete on the golf course, but usually not on purpose like this: https://t.co/m8fagzi3iw.