MONDAY FINISH
April 16 2018
One of the great perks of having the opportunity to cover The Masters is the lottery which permits a few of the great unwashed from the media to play Augusta National about 12 hours after that year's champion has slipped on the green jacket.
Rideau View member Shawn Taylor, the technical producer for TSN's broadcast from Augusta, had his number picked this year.
"I was like a little kid on Christmas morning, that's for sure," Taylor told Kevin Haime on TSN 1200 as Taylor becomes one of the few to say they've teed it up on the course that tops most weekend warriors' bucket lists.
Taylor's invitation instructed him to arrive at 9:40 a.m. for his 10:40 tee time and when he arrived at 9:38, he had to wait at the front gate until the appointed moment. He was assigned a locker in the Champions locker room (he got Angel Cabrera's locker), fed breakfast and was off to the range to meet his caddy.
To cut to the chase, Taylor teed off in the rain, struggled early to adapt to the icy fast greens with bogeys on the first six holes and settled down to card nines of 41-40 from the members tees which play at about 6,400 yards.
Pretty, pretty, good.
"You can't get used to putting on these greens," said Taylor, a six-handicap. "No matter how many times the caddy tells you to leave it 10 feet short, you can't trust it. I three-putted three of the first six holes."
He played holes 7-11 in one under par with a birdie on the par-5 8th and his favourite stretch was 10 through Amen Corner.
To sum up the experience: "Absolutely unbelievable."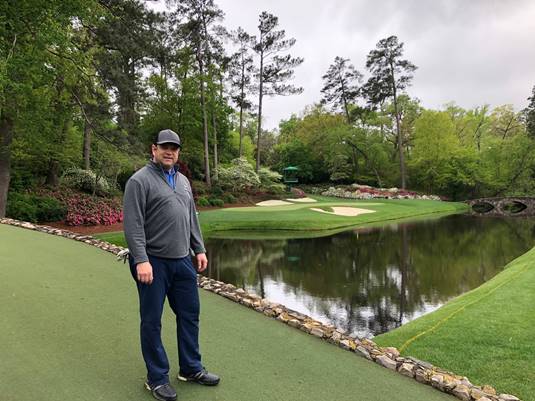 Taylor wasn't the only person from our area to have a good week.
Brooke Henderson and sister/caddy Brittany rallied for a sixth LPGA Tour title with a four-shot win at the LOTTE Championship in Hawaii and Henderson continued what is an inevitable march towards winning the most titles by any Canadian player on the world's major golf tours.
Henderson now trails Canadian golf legends Sandra Post, George Knudson and Mike Weir by two wins. Talk to people around the world of golf and if she can bring more consistency to her putting, she could be at the summit before this season is out.
Near as I can figure, these are the multiple wins by Canadians on the LPGA and PGA Tours:
2 - Gail Graham
2 - Dave Barr
3 - Stan Leonard
3 - Dawn Coe-Jones
4 - Al Balding
4 - Lorie Kane
4 - Stephen Ames (including 2006 Players Championship)
6 - Brooke Henderson (including 2016 KPMG Women's PGA Championship)
8 - Sandra Post, (including 1968 LPGA Championship)
8 - George Knudson
8 - Mike Weir (including 2003 Masters)
(This was done pretty much off the top of my head; if anyone can think of anybody I've missed, let me know through Twitter @CJ_Stevenson)
Henderson is one of those rare players who can win any given week.
What was impressive in the 20-yearold's latest win was the way she rallied with the putter. After needing just 50 putts in the first two rounds, she four-putted the 16th hole on the way to needing 35 putts in the third round, and saw what looked like was going to be a four-shot lead, dwindle to one.
But she bounced back on Sunday and made a significant birdie on the 16th hole to hold off world No. 2, Inbee Park, and go on to a four-shot win. She used 28 putts on Sunday.
Henderson spent a significant amount of time in the off-season working with her dad, Dave, on her putting, specifically on pace and seeing the line. She's had some good streaks, but she has admitted there are times when she allows misses to impact her confidence more than they should.
Her ball striking is so good (she averaged 295.5 yards off the tee Saturday and for the season, ranks ninth in greens hit in regulation at 75.93 percent), if she can just get more confidence with the putter and extend her stretches of confident putting, she is going to be even more of a force than she is now.
Dedicating her win to the Humboldt Broncos was a classy touch by Henderson, but you wouldn't have expected anything less from her.
"It's extremely sad, a terrible tragedy what happened up there," Henderson said. "I know it kind of affected my whole country. Everybody really took it kind of personally.
"For all the survivors that are still fighting through it and all the ones that have passed away, I want to show them that we're here for them and we're supporting them. They're always going to be in our thoughts and prayers."
The win moved Henderson up one spot in the Rolex world rankings to 13th. Her goal is to get back into the top 10 this season and, as evidenced by the fact she moved up only one spot with a win, that just goes to show you how many good players there are on the LPGA Tour who are playing well right now.
Rideau View member Brad Fritsch had a 1:50 p.m. tee time for the Monday qualifier for this week's Web.com Tour event, the North Mississippi Classic Open. He tweeted he was happy for the afternoon tee time. It was 1 degree C there at 8 a.m. Monday morning.
Has spring arrived anywhere?