Henderson gets a break; Koepka vs. Chamblee 2 and NHL ref in U.S. Amateur
Aug 12 2019
As the PGA Tour lurches towards its FedEx Cup focused finale, at least those of us in Canada can look forward to one more major.
That's what the CP Women's Open is to Canadians with Brooke Henderson of Smiths Falls out to defend the title she won last year in Saskatchewan. She became the first Canadian to win the national championship since 1973.
Henderson skipped the Aberdeen Standard Investments Ladies Scottish Open last week and with an open week on the LPGA schedule this week, she will have a good rest heading into her title defence.
She did what most Canadian do in August when they've got some time off.
She has been one of the busiest players on the LPGA Tour since becoming a member for her first full season in 2016. Since then, when it comes to total rounds played, she has ranked 1st, 2nd, 8th and 10th on the LPGA Tour.
She has been dialling back the number of rounds she has been playing as she has learned more about life on the Tour, the courses where she plays best and her own load management.
It will be interesting to see how she plays at the Magna Golf Club in Aurora, ON, next week in her title defence. Skipping the Scottish Open means she won't be spending a chunk of this week dealing with jet lag. She should be able to go into the CP Women's Open fresh mentally and physically. That doesn't guarantee anything, but it should give her the best chance of mounting a good title defence.
>>The best and most interesting golf Sunday was a continent away from the first event of the FedEx Cup playoffs at Liberty National. If you wanted compelling golf, it was at the final regular season event of the Korn Ferry Tour in Portland, OR.
The fate of players for the next year - either graduating to the PGA Tour or another year grinding in golf's minor leagues - was decided with the kind of drama that we used to see at the old Q-School.
Scott Harrington was the most touching story. A 38-year-old local hero, he finished second and moved from 38th to 19th in the regular season standings and into the top 25 who earn their PGA Tour cards for next season. He earned a card for the first time after eight years and almost 200 starts on the developmental tour.
Seeing the emotion he shared with his wife, Jenn, who has twice battled cancer, transcends the sports angle. A year ago, Harrington was on leave from the Tour to be with his wife as she battled Hodgkin's Lymphoma for the second time. She is now in remission.
Best story of the day.
>> Michael Gligic of Burlington earned his PGA Tour card after finishing 17th on the Korn Ferry Tour regular season standings.
If it seems like it was only about three or four years ago he was pitching into the 18th green at Rideau View from 100 yards out to try and win a playoff in the Rideau View Pro-Am it's because it was.
From there to the PGA Tour. Good job.
>> The best story on the PGA Tour these days is the momentum that seems to have been created to speed up play.
As is usually the case, it takes a viral moment to focus the attention and it came this week when it took Bryson DeChambeau more than two minutes to line up (and miss) an eight foot putt at The Northern Trust.
We can... pic.twitter.com/TOnRS4BXds

— Fantasy Golf Pod (@fantasygolfpod) August 10, 2019
He got called out.
That, of course, led to DeChambeau playing the victim, saying he had been unfairly called out on social media and that was he was attacked and portrayed in a bad light. Brooks Koepka was another of the players that had mentioned DeChambeau for his pace of play.
That led to this: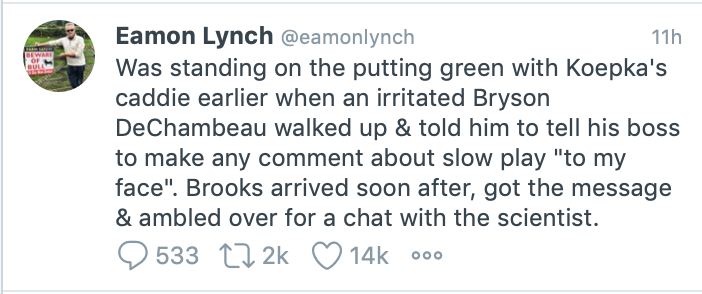 DeChambeau said afterwards it was a civil conversation.
DeChambeau isn't the only slow player on the Tour, but in the age of social media, it sure can seem like it.
Maybe it was just a coincidence, but the PGA Tour put out a statement Sunday saying it is going to examine its pace of play policy.
Said the Tour in a statement: "incidents about pace of play have led the PGA Tour to take a deeper look at its policy on the issue, and ShotLink technology could provide an answer. The Tour's current pace-of-play policy only addresses players whose groups have fallen out of position. The Tour is now exploring whether to expand its policy to also address players whose groups are in position, but who take an excessive amount of time to hit a shot."
Taking more than two minutes to line up an eight-foot putt is a ridiculous amount of time. That there was no penalty levied (that we know of, anyway; the PGA Tour seldom announces fines or suspensions) shows how far the PGA Tour has to go to come up with penalties that will deter the behaviour.
In the meantime, Koepka has become my favourite golf personality. He speaks honestly and can be savage. When Golf Channel commentator Brandel Chamblee said he thought Koepka (with whom he has already had some spicy exchanges) was being inconsiderate by standing up the fairway while Rory McIlroy was playing a shot, Koepka responded:
>> Two Canadians have advanced to this week's second leg of the FedEx Cup playoffs in Chicago at Medinah No. 3 which features the top 70 in the standings. Corey Conners' T21 at The Northern Trust moved him up four spots to 27th in the standings and a decent performance this week could get him into the season-ending Tour Championship which features the top 30 players.
Adam Hadwin is ranked 51st, a drop of five spots and will need a very good week to stay alive.
>> NHL referee Garrett Rank of Elmira, ON, earned the last spot among the 312 players who started competition in the 119th U.S. Amateur at Pinehurst on Monday.
Rank, 31, got in after boosting his world ranking with his win at the prestigious Western Amateur last week. He's the first mid-am (25 years of age or older) to win the Western since 1997 and the second Canadian after Jim Nelford in 1977.
"A dream week," he texted.
Rank's win has inspired some other seasoned players, according to this story in Golf Digest: https://www.golfdigest.com/story/how-a-nhl-refs-inspiring-golf-win-has-changed-the-outlook-of-the-upcoming-2019-us-amateur.
Garrett Rank hoists the hardware at the Western Amateur (photo: thewesternamateur.com)