Brooke Henderson: #shethenorth
June 17 2019
The history-making ninth victory for Brooke Henderson of Smiths Falls, which gave her the most wins for a Canadian on the PGA and LPGA Tours, had an air of inevitability about it.
It was just a matter of time and when she gets off to the kind of start she did last week - a 64 in the first round spread over two days that included a hole-in-one - it's a good indication of what's to come.
When she gets off to a quick start, like better than a 69 in the opening round, look out.
Here are her first-round scores in her nine wins on the LPGA Tour: 66-67-65-63-65-68-66-65-64.
Henderson has started a tournament with a sub-69 round 35 times.
She has had a win or a top-10 finish an astounding 27 times. She is the definition of a front runner.
In her 106 starts on the LPGA Tour, her best finish after opening with a 69 or higher is a second at the Coates Championship in 2016.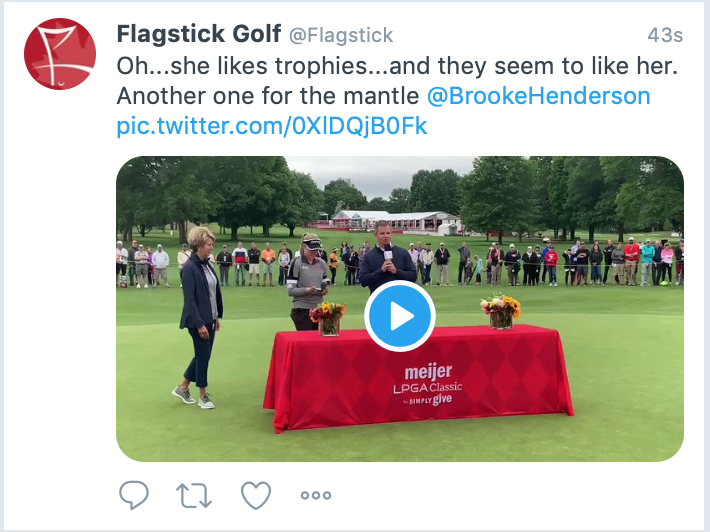 -> That she would become the Canadian with the most wins on the major tours - the LPGA or PGA Tour - just seemed like a matter of time, but who would have thought it would be so little time?
At 21 years of age, Henderson has nine wins, one more than Sandra Post, Mike Weir and George Knudson.
It's pretty remarkable when you consider the ages of those three Hall of Famers when they recorded the eighth wins of their careers:
| | | |
| --- | --- | --- |
| Player | Event | Age |
| Mike Weir | 2007 Fry's Electronic Open | 35 |
| Sandra Post | 1981 McDonald's Kids Classic | 35 |
| George Knudson | 1972 Kaiser International Open | 36 |
With nine wins in 106 tournaments, Henderson is winning just slightly less than nine percent of her starts.
If she keeps up that pace and she plays until she's 30, she could have 32 wins. Beth Daniel is in 15th place on the all-time LPGA wins list with 33. The thing is it's not out of the question Henderson could start winning at a faster clip as she gets more experience, strengthens areas of her game and becomes more familiar with the golf courses on the schedule that best suit her game.
How much she can accomplish might just come down to how long she wants to play the game.
-> Henderson is a streaky player, especially with the putter, and she's coming off a great week on the greens. She needed 112 putts for the week, compared to 131 at the U.S. Open. How long can she keep a hot streak up?
I was interested to see how she has fared the week after a victory:
Win #8: 2019 Lotte Championship
Next start: T10 at the Hugel-Air Premia LA Open
Win # 7: 2018 CP Women's Open
Next start: T21 at the Cambia Portland Classic
Win #6: 2018 Lotte Championship
Next start: Missed cut at Hugel-JTBC LA Open
Win #5: 2017 McKayson New Zealand Open
Next start: T8 at LPGA KEB HanaBank Championship
Win #4: 2017 Meijer LPGA Classic
Next start: 2 at KPMG Women's PGA Championship
Win #3: 2016 Cambia Portland Classic
Next start: 64th at U.S. Open
Win #2: 2016 KPMG Women's PGA Championship
Next start: T21 at Meijer LPGA Championship
Win #1 : 2015 Cambia Portland Classic
Next start: T23 at CP Women's Open
It turns out her best performance after a win was a solo second at the 2017 KPMG Women's PGA Championship at Olympia Fields in Chicago. She shot 66 on Sunday and came a roll short of forcing a playoff with Danielle Kang and having a chance to defend her title.
As the schedule maker would have it, the Tour is in Minnesota this week for the KPMG. It's being held at Hazeltine National, the kind of big, potentially stout golf course on which Henderson can excel.
Henderson will play the first two rounds at the KPMG with Pernilla Lindberg of Sweden and Charley Hull of England. They are off at 8:57 a.m. Thursday off the 10th tee and at 2:22 p.m. Friday from the first tee.
She has had best performances in a major at the KPMG with a win, a second, a T5 and a T6 in her four starts.
-> One of the first prominent people to tweet congratulations to Henderson was Weir and you wouldn't expect anything less from the 2003 Masters champ who's a class act.
She heard from some other people, too:
So, Henderson now has nine wins. Weir, 49, is getting ready to play on the Champions Tour and given some of his performances lately (he qualified for the U.S. Open) it's not out of the question he could contend on the Champions Tour.
A question: If he wins on the Champions Tour, does that count towards the "winningest Canadian" total?
I say no. As tough as it might be to win on the Champions Tour, it's not in the same discussion as the PGA Tour or the LPGA Tour.
-> Gary Woodland's win at the U.S. Open had a nice Canadian connection. Brennan Little, his caddie, is from St.Thomas, ON. Little was the long-time caddie for Weir and was on his bag when Weir won the 2003 Masters.
I enjoyed this story about that other historic Canadian win:
-> The 17th hole at Pebble Beach is a monster of a par-3 and has been the stage for a couple of the greatest shots in the history of the U.S. Open. Jack Nicklaus hit a 1-iron there in 1972 that hit the stick on his way to the win and Tom Watson chipped in during the 1982 U.S. Open to propel himself to a win over Nicklaus.
Woodland can add his pitch - from off the green - to the list of memorable shots by the winner on the 17th. Woodland was on the green but about 90 feet away with a knob and rough between him and the hole.
https://twitter.com/PGATOUR/status/1140427506169929738
"I was just trying to get it down there, trying to get it past the hole so I could be putting back uphill, and it came off perfectly," Woodland said. "I clipped it nicely.
"If I putted it, I don't think I could have got within 20 feet."
-> For one U.S. Open, at least, the course setup wasn't a story. Pebble Beach played fairly, I thought, which was evidenced by a guy like Chez Reavie, who is definitely not a bomber (average of 292.6 off the tee for the week, 60th in the field) having a chance to win.
He finished tied for third. He hit 42 of 56 fairways for the week (75 percent) and ranked T11. Louis Oosthuizen finished tied for seventh and he was 40th in the field in driving distance, but T3 in driving accuracy (46/56, 82.14 percent).
Woodland, by comparison, was T5 in driving distance (310.8, so almost 20 yards longer than a guy like Reavie), and T22 in accuracy (40/56, 71.43 percent).
Accuracy looked it was almost as important as length and that, in my mind, is a good balance and a good setup.