Your Canadian Open Primer
June 4 2019
The RBC Canadian Open tees off this week and I can't remember the last time - maybe it was when Mike Weir was at the top of his game 15 years ago - when there was as much to get excited about when it came to our national championship.
-> First off, there's the date in the revamped PGA Tour schedule, shifting to the first week in June from late in July. It used to be right after the The Open Championship and now it's right before the U.S. Open.
There are pros and cons to both, but I don't think there's any question this move helps the quality of the field. In the old schedule, a lot of the top players skipped the week after a major especially in a busy stretch heading into a WGC event and then the FedEx Cup playoffs.
You'll get some guys who won't play the week before a major, but I think the scale tips in favour of those who will. There are four of the top 10 players in the world ranking in the field this week: Brooks Koepka, Dustin Johnson, Rory McIlroy and Justin Thomas.
After Tiger Woods won his 15th major at The Masters, you have to have him in the field to generate the maximum buzz, but this is one of the deepest, if not the deepest Canadian Open fields. Having the tournament in early June also capitalizes on interesting ramping up in golf in our country as the season really gets underway (though you wouldn't know it in most of the country given the uncooperative weather).
-> The Hamilton Golf and Country Club in Ancaster is a magnificent stage which has undergone some significant tree removal since it last hosted our national championship in 2012.
The truth regarding trees on many older courses is they mostly fall into the philosophy of "it was a good idea at the time." Many courses were staked out over open fields and it was felt trees were needed to increase difficulty and give courses a more established feel.
Problem is decades later, the trees, which in many cases were overplanted in too many numbers, have choked off lines of play (reducing strategy rather than augmenting it), obscured original vistas and most damagingly, robbed the turf of sunlight, water and nutrients.
The removal of hundreds of trees have returned Hamilton more to the look and strategy of the original Harry Colt design. It can breathe again with the result the quality of the turf - particularly on greens that might have been in shade - greatly improves. Improved turf means more challenging green speeds when needed and perhaps even additional hole placement options.
The removal of trees can wind up augmenting strategy rather than diminishing it.
-> With four Canadians emerging from Monday qualifying there will be 26 Canadians in the field this week in Ancaster, an amazing number which is indicative of the number of Canadians now playing around the world.
There's never been the depth of players we have now. There are five PGA Tour winners from Canada in the field - Mike Weir, Adam Hadwin, Nick Taylor, Mackenzie Hughes and Corey Conners - and any of the latter four are capable of ending the Canadian winless streak at our national open.
Here's a look at the Canadians in the field this week with a quick fact or two on each:
James Allenby, Langley, BC: Mackenzie Tour-PGA Tour Canada player (fifth on Order of Merit) was low medalist Monday at the qualifier with a 67.
Michael Anderson, Mississauga, ON: The 19-year-old University of San Francisco freshman shot 67 at Elm Ridge to win Quebec qualifier.
Michael Blair, Ancaster, ON: The 27-year-old gets to play in his backyard after winning a regional qualifier with a 64 at TPC Toronto in May. He's barely played over the past two years because of a shoulder injury. Apparently, he's lucky to have this chance:
Etienne Brault, Mercier, QC: After just missing out in the Quebec qualifier, the amateur tied for second at the Monday qualifier and will play his first Canadian Open.
Marc-Etienne Bussieres, Gatineau, QC: The No. 1 player on the PGA of Canada's Order of Merit earned his second-straight trip to the RBC Canadian Open.
Albin Choi, Surrey, BC: 82nd on the Web.com points list this season.
Austin Connelly, Claire, NS: Has made the cut in two of eight starts on European Tour this year and will represent Canada at the Pan-Am Games in Lima.
Corey Connors, Listowel, ON: He won the Valero Texas Open in April and has a legitimate shot to win this week.
Chris Crisologo, Richmond, BC: Has an exemption as a member of the national team.
J.C. Deacon, Toronto, ON: 37-year-old Golf coach at University of Florida earned fourth and final qualifying spot Monday with a 71.
Thomas DeMarco, LaSalle, ON: Amateur tied for second at the Monday qualifier and will play his first Canadian Open.
Michael Gligic, Burlington, ON: Got his first win on Web.com Tour this season and is currently seventh on the points list.
Adam Hadwin, Abbotsford, BC: Four top 10s early in the season, 55th in FedEx Cup and 79th in the world. He's Canada's best right now.
David Hearn, Brantford, ON: Tied for fifth with partner Seamus Power at the Zurich Classic. Best individual finish this season is T15 at RSM Classic. He finished third at Glen Abbey in 2015 after Jason Day birdied the last three holes and Hearn finished two shots back.
Mackenzie Hughes, Dundas, ON: He's coming off a tie for eighth at Colonial and knows the Hamilton track as well as anybody in the field. Watch him.
Richard Jung, Toronto: The 26-year-old won his second PGA Tour Series-China event three weeks ago.
Richard T. Lee, Toronto, ON: He won on the Korean Tour in April.
Drew Nesbitt, Toronto, ON: A final round 62 on Sunday gave the lefty his first win on the PGA Tour Latinoamerica in Mexico so he's coming in hot. Nesbitt's par at the Honda Classic, which helped him make his first cut on the PGA Tour, went viral:
https://www.pgatour.com/video/2019/03/01/drew-nesbitt-saves-improbable-par-from-water-at-honda.html
Joey Savoie, LaPrairie, QC: Canada's top-ranked men's amateur (No. 45 in the world), he received an exemption for the second-straight year. Missed the cut after rounds of 71-72 last year.
Ben Silverman, Thornhill, ON: It's been a tougher go for the 31-year-old in his second year on Tour. His best finish is a T12 and he's 184th on the FedEx points list.
Roger Sloan, Merritt, BC: He's made the cut in 10 of 19 events in his second full year on Tour and has three top 25s this season. Coming off a T31 at Colonial.
Adam Svensson, Surrey, BC: The 25-year-old rookie earned his PGA Tour card by finishing 14th on the Web.com Tour points list last season. Shot 61 at the Sony Open in January and his best finish is a T18 at the Desert Classic.
Nick Taylor, Abbotsford, BC: A former winner (2014), a tie for 16th is best individual result this season. Has missed the cut in his past two events. He saved his card for this year with a 63 in the last round of the regular season last year which moved him to 119th on the FedEx list.
Josh Whalen, Napanee, ON: The 23-year-old is in his second season on the national team and received an exemption.
Mike Weir, Bright's Grove, ON: The 49-year-old, who is eyeing the Champions Tour (he turns 50 next May) is playing some good golf and last week qualifyed for the U.S. Open for the first time since 2013. This will be his 28th Canadian Open.
Ryan Yip, Calgary, AB: 78th on the Web.com points list this season.
Maybe one of them will be inspired by Brooke Henderson showing them how it's done by winning the CP Women's Open last summer.
Speaking of Henderson, she had (for her), a mediocre U.S. Open with a final round 75 and a tie for 39th. She slipped from sixth in the world rankings to ninth. Sixth was the best she's been since week 43 of the 2016 season. Her best ranking was second for six weeks after winning the KPMG Women's PGA Championship in 2016.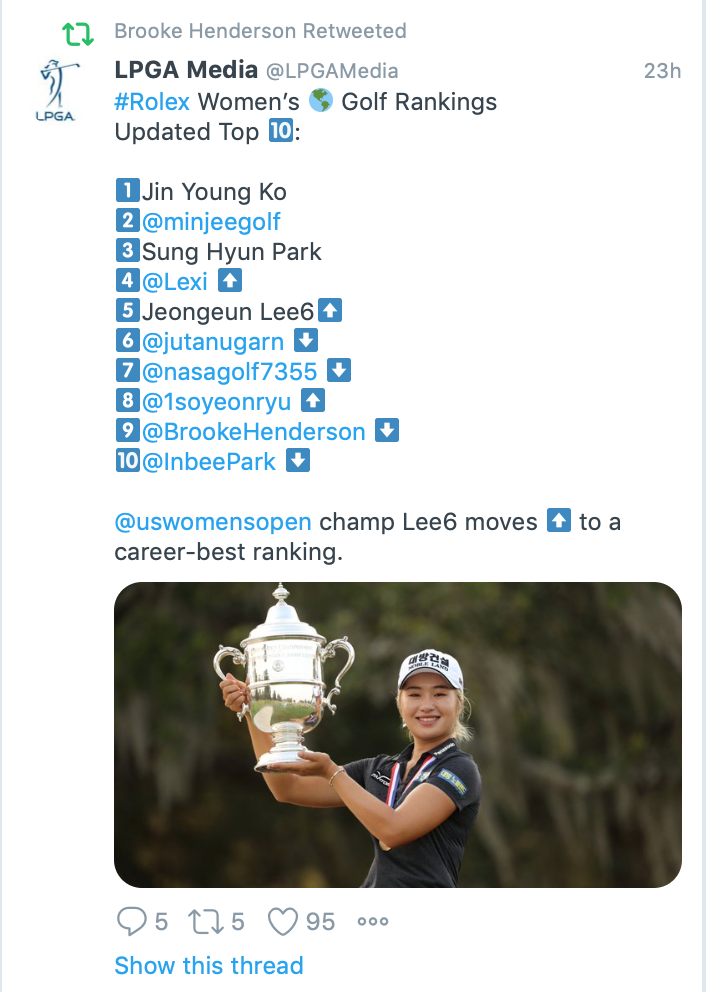 As usual, it's often who putts best who wins. Henderson finished 11 shots behind winner Jeongeun Lee6, seven of them on the greens.
Henderson had a total of 131 putts for the week (34 on Sunday) and averaged 32.75 putts per round at the Country Club of Charleston. Lee6 hit 57 greens for the week and Henderson, 54.
Henderson hits a lot of greens (she's fourth in GIR for the season), so her putts per round aren't going to be as low as a player who misses more greens and winds up with some short putts for par.
But it's interesting that in putts per green in regulation, she has slipped from 10th last year (1.76) to 51st this season (1.81). She's always been a streaky putter, but it's been a bit of a struggle this season, looking at those numbers.
Henderson was also just 1-for-7 in sand saves, including 0-for-4 on Sunday. That's another six shots she gave up to the field. Lee6 was 3-for-5 from the bunkers. Henderson now ranks 115th on Tour in sand saves at 35.29%. Yu Liu leads the Tour in sand saves at 67.93%.
It could be a matter of Henderson not hitting the ball close enough from the bunkers or her putting not getting the job done or a little of both. Whatever it is, it can use some significant improvement.
At that elite level of the game, shaving tenths of percentage points can be significant. A little uptick in putting or sand play could yield big dividends.
Weir and Taylor will be the Canadians in the field at the U.S. Open next week at Pebble Beach after sectional qualifying on Monday was not kind to Canadians.
There were 22 Canadians who advanced to sectional qualifying, but none advanced.
The closest to qualifying were NHL referee Garrett Rank and Keven Fortin-Simard from Lac Saint-Jean, QC, who each missed by two shots.
Rank, who was trying to qualifying for the American championship for the second year in a row. had rounds of 74-70 in Rockville, MD.
Fortin-Simard, 33, is back trying to Monday qualify for PGA Tour events after five years running the golf club in Lac Saint-Jean. He had rounds of 76-69 in Purchase, NY.